Reason for the "aka", Kell and I have renamed all of our rooms to make our smallish dwelling seem king sized.. really though we just crack up when we call our 2 foot by 3 foot outdoor storage off the
terrace
our garage! Or our bedroom (the only bedroom in the house by the way) the
master bedroom
and likewise, our only bathroom, the
master bath
.
Room by room, post by post I'll share the place with on here! I had hoped to share it all earlier, but decorating on a budget sometimes means waiting it out for sales and deals to come along or finding time to DIY.. which in all honesty is probably how I'd prefer sprucing up a place even with a big dollar budget!
Without further ado, here it is, our quaint terrace...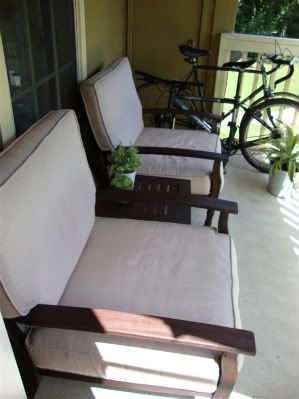 We love it and when we looked at renting this place we were so excited about the idea of a little private outdoor space all our own for enjoying coffee in the morning and wine in the evening. And guess what? We have been enjoying it, a lot! We feel like we're the only ones that enjoy our porch because no one around us is ever out on theirs but then again not many have fixed theirs up in the way of coziness... so am I bragging that we have the sweetest terrace on the block? Yes, I am and yes, we do. :)
The chairs, well I found these on craigslist as a 3 piece set that also included a couch for $125! They're teak and the cushions are super thick and comfortable. Roomy and comfy is exactly what I was wanting because sipping wine and reading on the terrace for hours will never happen if you can't curl up 10 different ways and so these fit the bill with their 3.5 square foot seats. When we picked these up they were pretty weathered and the joints needed some tightening so Kell and I got to work on them right away. I wish I had a before picture for you but we were so excited to get them looking fab that I forgot! We scrubbed, washed, sanded, stained and sealed them to the brilliant pieces they are now and we're so happy with them. Obviously we didn't have room for the couch out there, but we knew that when we bought the set. Now rewind a bit.. our budget for outdoor seating was $75 so buying this set for $125 would have set us way over budget, however we figured that after revamping the couch we could turn around and sell it quick. And sell it quick we did, in fact when it was all said and done we came out under the budget by 5 buckaroos! The couch piece sold for $75 putting us at $50 for both chairs + supplies for refinishing at $20 coming to a grand total of $70! Woo hoo! What a deal, especially considering something similar brand new from Target or World Market would have set us back about $350.
Add some plants to the pots and a little table (all of which we already had) and you've got a cozy outdoor space! We're really enjoying the fall weather and our view of a big Sycamore that has started turning its colors (way to go Florida weather)!!
More of the new apartment reveal to come..