I'm choosy about my necklaces, which is why I don't own many. I also won't wear necklaces and earrings at the same time - it's either one or the other and lately I've been wearing earrings and leaving my necklaces to sit pretty in their jewelry box. However, this Sunday morning before church I did two things I hadn't in a while: styled my hair and wore a necklace. For the past 3 months or so I've been lazy, letting my hair air dry and not really caring if it was tangled.. I think it's time I start caring again! :) I also switched out my earrings for a lovely necklace that Kell bought me for Christmas.
After the service (which was INCREDIBLE.. listen to it
here
) we went to Panera with our dear friends Marja and Phil who by the way just scored a deal on a new home close to the beach.. I'm so excited for them! So anyways.. it is a necklace day because Marja gave me the most lovely early birthday gift. A pearl necklace! Not just any pearl necklace though.. I've never seen another like them and I've always wanted my own set of pearls!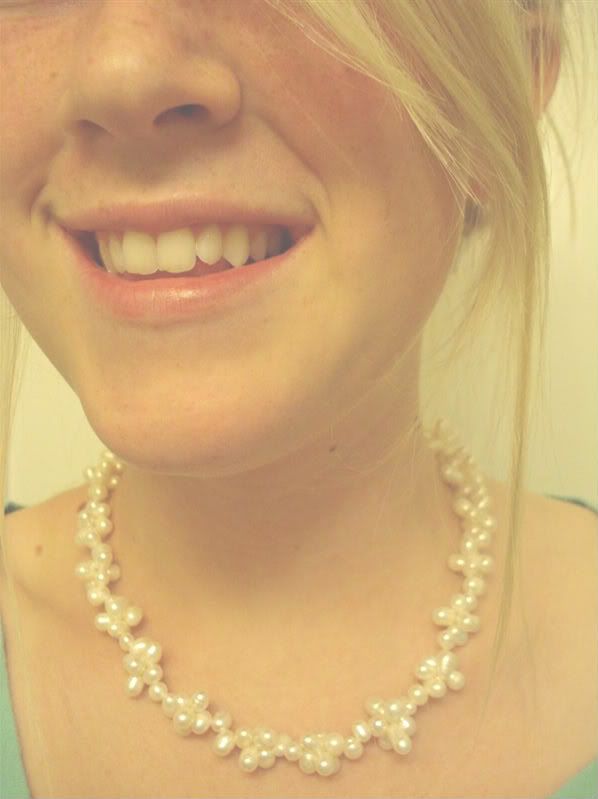 Aren't they the prettiest strand of pearls you ever saw?? I think so! I'm so grateful to have a friend like Marja.. not because she's a good gift giver.. but because she cares and loves people so well. She's made major impacts on my life from the beginning of our friendship years ago when she led and discipled me in my new relationship with Christ to now and how she is someone I can turn to for sound advice and a laugh! Everyone needs a Marja in their life, just not my Marja, go find your own! :)
Another reason it's a necklace day is because, I went to TJMaxx not looking for anything in particular.. but happened upon the most perfect little gold necklace. Gold doesn't suit me as well as silver.. but I fell in love with this simple and dainty piece! And bonus.. it was clearanced down to $5!! What a steal!
I haven't blogged in months.. I haven't been inspired to write about anything and feel that there's a pressure to be creative on here since others are reading it. I hope to pick this back up again, forget trying to impress people and post more often. Hope you enjoy and visit again.