Hello all! As I am sure you can see.. and even perhaps have noticed that I have not been posting. If you still check in for updates.. I am flattered you care enough.. and am sorry for being a negligent blogger! My thoughts and desire to blog are still alive.. however finding time to do so has been nearly impossible these last 3 months!!
As noted in my last post.. my older brother Justin got engaged to his girl Yeci over Christmas break! They live in Seattle, and the wedding will be here in FL.. so I agreed to help them with wedding planning! It's coming together beautifully.. she is Mexican and wants to incorporate some of her culture in as well which I love because spanish decor is very colorful and I suspect there will be lots of dancing! My parents live near a lake and the ceremony will be held there with an outdoor reception to follow at my parents place. The decor is like a mexican garden theme and so for the past 5 saturdays my mom, dad and I have been out in the yard creating a lush landscape..weeding, cutting trees down, planting new ones and my favorite.. planting flower seeds! They have already begun to sprout and I can hardly wait for them to bloom! Flowers we choose are zinnias, poppies, ranunculus', cosmos, small sunflowers, marigolds.. and a few more I can't think of.. but all very bright and petaly (word?) flowers. She's ordered a bunch of papel picado flags and lanterns and twinkle lights. We are still looking for the right vases.. but this wedding is sure to be lovely! After typing this.. I felt inspired to create an image board of it all.. here's what we're going for...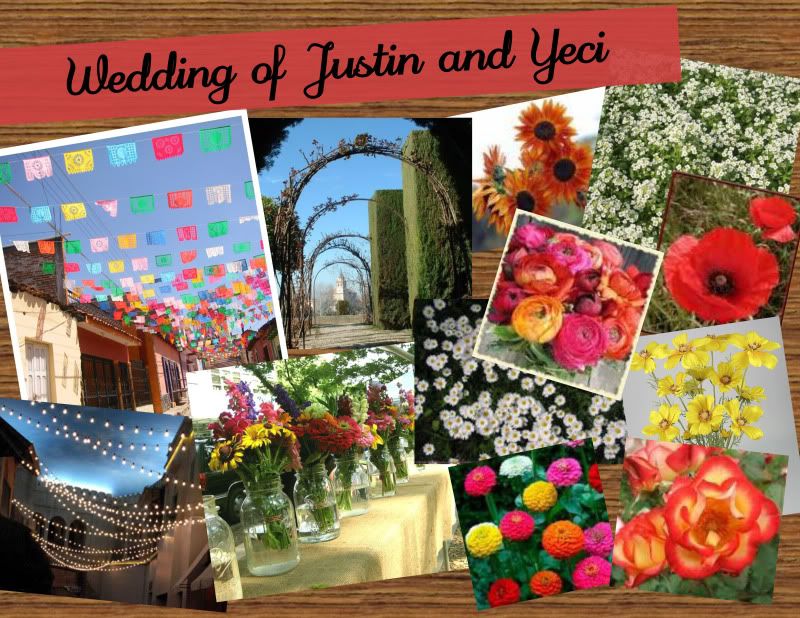 Beautiful right?? I'm in love with all of the colors.. currently looking for a dress to wear for it.. thinking about one from the Liberty of London line at Target.. this one maybe? What do you think?
I think I love it.. but need to shop around a little more to make certain! Alright.. well there is more I'd like to post on.. but alas.. have run out of time. Will make special efforts this week in finding time to post the rest of my 3 months away update!
Have a cheery day and find moments to be outside and breath the fresh spring air!