I haven't posted much on our new place yet. The set up of our last apartment and our new one are almost identical except that this one has high ceilings and a den! Oooh yes, a cozy den. I wanted to turn it into a tiny guest bedroom or reading lounge... but with the mister still in school, it was responsible of us to go ahead and turn it into an office/study. It's nice that he can close the door and dive into the books while I watch a movie or play music and cook without either of us distracting eachother.
So at last, welcome to our (but mostly Kell's) study!
We love our long desk that we can really spread out and have a good surface to work on. Neither of us has studied at the dining room table since we got it. Kell usually sticks to the right because he needs the large monitor for his classes and I usually stick to the left where I blog, pay bills and write letters.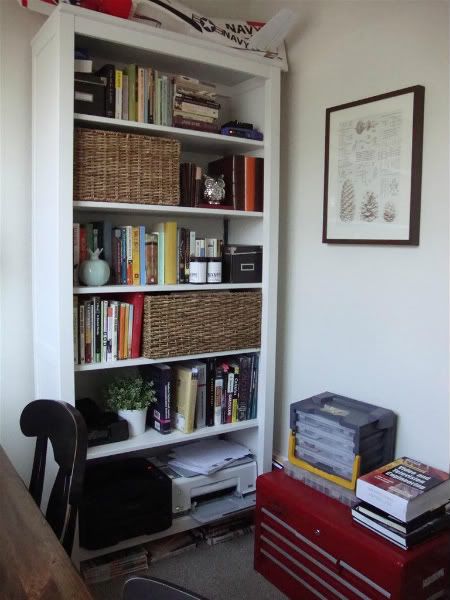 Our tidy (sort of) book shelf. It's amazing what two good sized sturdy baskets can hide. They wrangle all of the ugly office neccesities like the stapler, ruler, tape, hole puncher, extra paper and ink cartriges, etc. And with some tricky wire work Kell was able to neatly tuck our two printers on the bottom shelf there.
As for the big huge red metal tool box... well like I said, this is mostly Kell's space so I had to grin and bear a few things he said were non-negotiable. But in all honesty.. he's an engineering student who does a lot of cool nerdy robot projects that are way over my head and apparently need a lot of tools, so I get it. And when all is said and done... I like the color red at least.
No onto some close up features of my favorite details in this room...
Don't you think this is fine hook? It's made of a real horn or tusk of somesort and I LOVE everything about it. My mom gave it to Kell as a gift last year and I think it looks so handsome mounted in this space and serves as a great spot for Kell to hang his backpack when he gets home.
Next up..
I spotted this interesting illustration at of all places, Ikea. It came with two prints.. you can see the other one in the book shelf picture above. I think all of the equations and scientific theories make them perfect for our study since Kell is an Electrical Engineering student. He loves them. And bonus: the pinecones work into the natural/woodsy style we've got going on throughout the rest of the house. Woo!
And finally...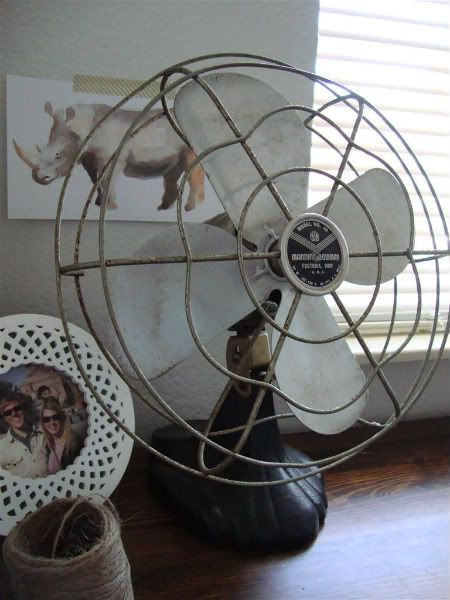 During our stay in the North Georgia mountains (posted on
here
) we went black friday shopping at this grand antique shop. I had been looking for a decent desk lamp and fan since August of 2010 when we got our long desk and never found anything that really intrigued me or was affordable. And then when I was least expecting it and not even searching we spotted eachother and it was love at first sight. Yes, exactly like a love story.
The lamp is an old Eagle army desk lamp and the fan is a metal blade Manning and Bowman. They suit mine and Kell's style perfectly.. we love things that compliment but aren't matchy and I don't think you could find a better example of that than this pair. We we're so excited about our find and to leave there having only spent $40 total on these gems was the cherry on top.
Well that about wraps it up. I hope to have another post up this week and then next week I'll write on our beautiful sailboat and the fun sailing adventures we've been having!